We are happy to have your testimonial or feedback!
Please upload a picture of your dog if you would like it included in your testimonial.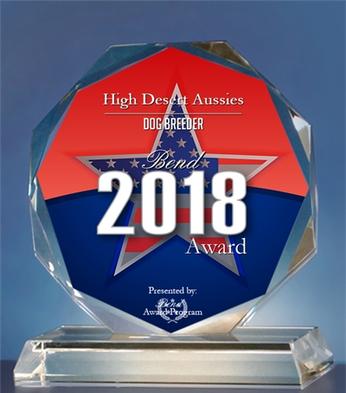 High Desert Aussies Recieves the 2018 Bend Award!
Kellie G.: I bought a Blue Merle male from Johanna @ High Desert Aussies last October. I absolutely LOVE him! His name is "Duke". Johanna made sure that I knew how she feeds her mother dogs so they have healthy babies. And then how she feeds her puppies so they have a healthy start at life! I have seen her facilities on facetime and I was very impressed! It is kept very clean & the dogs look very happy! They are her furry kids! The momma dogs even go to the groomer for spa day before they have their puppies! I am very happy to say that I am waiting on my second puppy now, a little girl. I highly recommend High Desert Aussies!
Hello Johanna!
 We got our first puppy, Finley from you and he is now almost a year and a half! His parents are Kaya and Odie! Then in April we brought home, Sadie! Her parents are Brea and Hugo. I will attach some pictures so you can see my cute babies!!
First of all, I can't thank you enough for them. They are my best friends and truly the best dogs ever. Finley is my emotional support animal and knows so many tasks to help me with my anxiety, depression and ptsd.
Over the months that we have had them, we have made many great friends with other high desert aussie parents. We all always laugh about how all the Odie pups are crazies but exactly the same!
I've been sharing our lives on Instagram and Finley and Sadie have grown over 33 thousand followers who have fallen in love with them too! I really can't thank you enough for my babies.
Thank you for all you do!
Maggie, Finley, & Sadie xx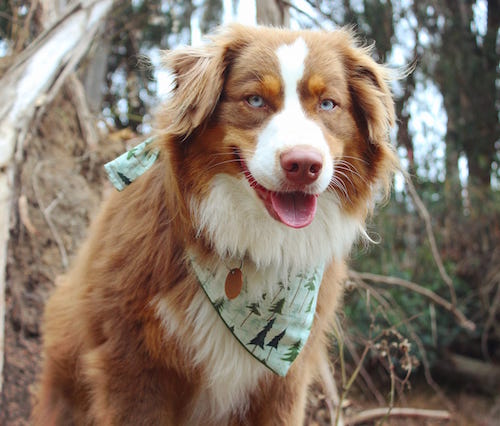 We recommend High Desert Aussies 10000%!!! We love our beautiful boy, Ori.
Michelle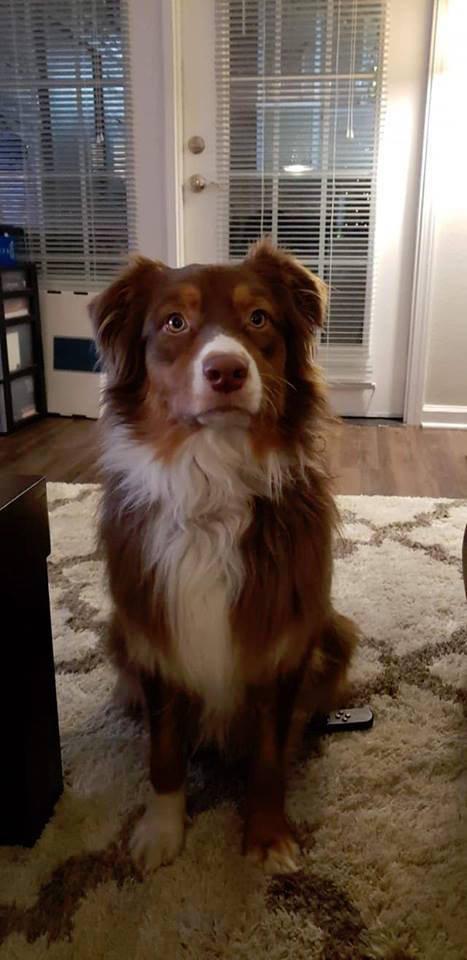 We have two, soon to be three, aussies from High Desert Aussies. Needless to say, we would recommend Johanna to anybody looking for an amazing Australian Shepherd to add to their family.  We got to meet the parents when we meet Johanna at the Airport. There where just stunning.  They are all well groomed, socialized, and responsive to Johanna. It is apparent that Johanna puts a lot of care, time, and passion into her pups.
Johanna is doing the breed a great service with every litter. She health tests all of her adults and she is there for the buyer to help answer any questions before and after their puppy selection. I could not have asked for better puppies and breeder.
Thank you for everything!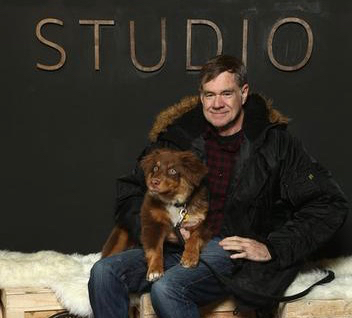 Director Gus Van Sant from 'Don't Worry, He Won't Get Far on Foot' attends The IMDb Studio and The IMDb Show on Location at The Sundance Film Festival with his High Desert Aussie puppy on January 22, 2018 in Park City, Utah.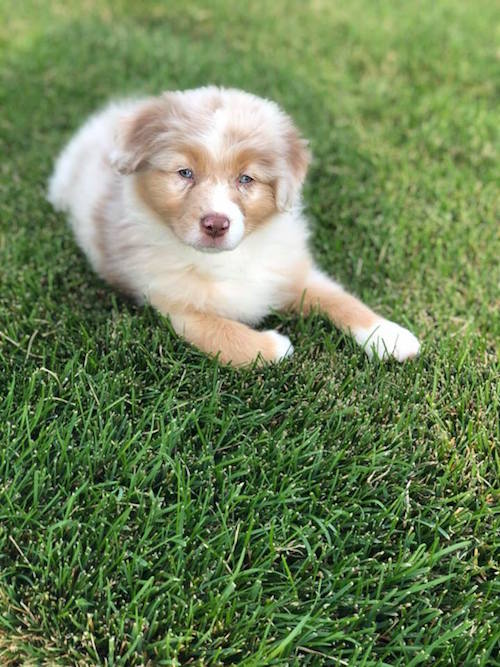 Director Gus Van Sant from 'Don't Worry, He Won't Get Far on Foot' attends The IMDb Studio and The IMDb Show on Location at The Sundance Film Festival with his High Desert Aussie puppy on January 22, 2018 in Park City, Utah.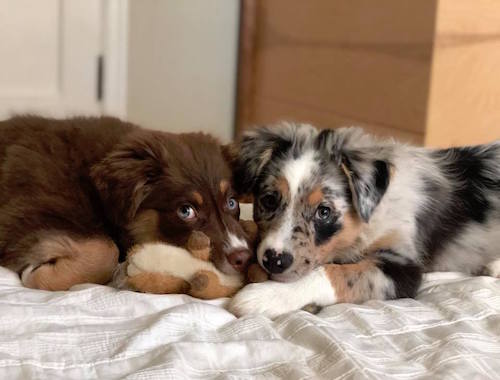 We adopted Henry and Ellie in March (Einstein/ Maggie). Henry is a gentle boy who wants nothing more than to cuddle and give kisses to everyone he meets. Ellie is a fearless, protective force that keeps all of us safe and offers endless entertainment. Adopting a sibling pair was the best decision. They have constant companionship and watching them grow together has been nothing short of absolutely hysterical.
Johanna does a great job taking care of these pups and their parents and is prompt and reliable when it comes to answering our questions.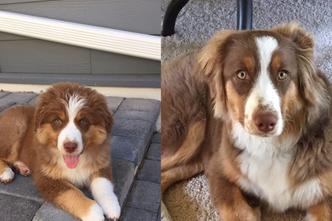 Melissa Olson
I met Johanna in August of 2014 and put a deposit down for my puppy who was born in April of 2015. Through that process, Johanna allowed me to meet the puppy by Video chat. Johanna has a passion as a breeder and her Aussies are happy and live in a super clean environment. When the puppies were born, I got to see photos every week to see the growth and interaction of the puppies with their mom. During this time Johanna talked about training, health, food and the care she takes with the puppies.  As you can see, I have a Red Tri. She is the sweetest dog. We love her. I highly recommend that if you are thinking of getting an Aussie, call Johanna and she will give you a virtual tour of her kennels.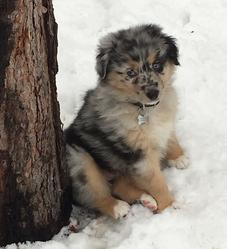 KC & Shelley Bolton
We received our Blue Merle girl, Sasha, (Emma/Einstein 2015) on Dec 12th, 2015. She is such a delight and a beautiful little girl! From the time we were interested in getting another Aussie, we contacted High Desert Aussies.  We were very impressed with the facilities on line and how much care they take with their Aussies. Once our girl was born, we got weekly photos to see her, and Johanna was always flexible in working with us so we could facetime with her. Our whole experience has been a true blessing and the amount of time that is spent with the puppies is evident in how quickly we are getting Sasha house broken, her interactions with people, and just her overall personality. Thank you High Desert Aussies!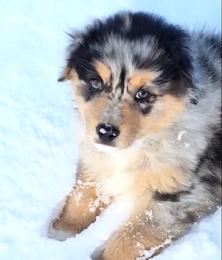 Molly LaCroix
Today we celebrate Christmas with the special joy of a new family member in our midst. Our boy Newton (who already has many nicknames including Figgy Newt) is such a loving, smart, and athletic little guy! We are very grateful to have found Johanna and High Desert Aussies. The entire process from our first contact to gatting him up was a pleasure. She was (and still is!) a great source of information. Her dogs are gorgeous, and Newt is no exception. Thanks so much Johanna!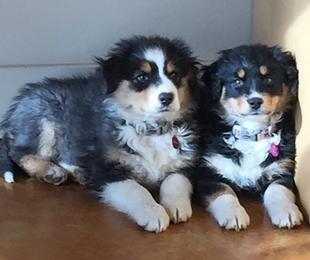 Both, Kat and I wanted to thank you from the bottom of our hearts for assisting us and making our experience with High Desert Aussies the best possible. I was sold instantly when I got introduced to Johanna . I immediately fell in love with the amazing parents of our two puppies - Emma the mother and Einstein as the father.  Johanna helped us navigate through all the things we needed in order to make their and our transition an easy one. She sent us home with a packet of detailed information on their protocol - also offering very good information on healthy food choices such as the Honest Kitchen. We now have two beautiful and well nourished youngsters by the nae of Nellie and Yoda. Nellie and Yoda also love our 11 year old male dog Kota.  Kota instantly adopted Nellie and Yoda and is already teaching them lots of tricks - and so goes the Saga -lol.
We are grateful to Johanna for bringing so much Joy and Ease to our lives. Johanna is always prompt to answer ny questions that you might have.
Enclosed please find a variety of pictures of the bunch.
Marcus and Kat.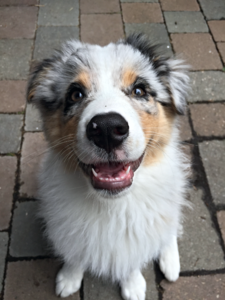 Hi, Salish is 14 weeks and growing fast. He must be over 20lbs now! He's in his 4th week of the AKC STAR puppy program and doing fantastic. We take him everywhere and he is so calm out in restaurants and stores. People always comment on how well behaved and gorgeous he is. Our family finally feels complete. Thank you, we love him so much!
Lori Stamper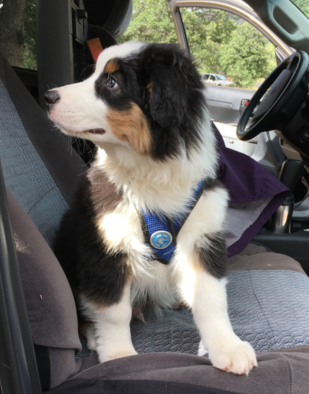 Lorie Saunders
Here is Tule! Son of Chloe and Einstein- March 2016 He is Mr. personality. We love him so much. He is starting to follow commands and is a great hiker. Super affectionate and he gets lot of admiration wherever we go. Plays constantly with our 8 year old Border Collie. Thank you for this little gem. (Getting bigger every day)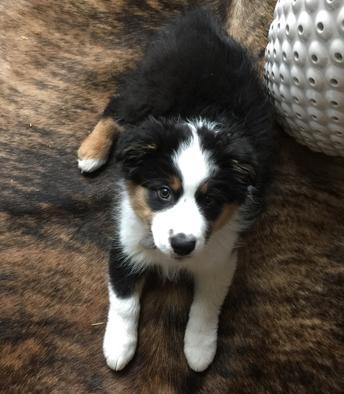 Tracy - Ashland, Oregon
Johanna is an amazing breeder and her pack of fur balls are well socialized, healthy and their temperaments are exceptional. On a scale of 1 to 10, I would rate Johanna's facility as a 10. Her facility looks extremely clean and her dogs are fed high nutrient food. Also, I loved the very large play areas for the dogs. Our boy, Sawyer (Hugo/Hazel litter - Oct 2016) is incredible. We are in love with our social butterfly. Sawyer is super bright, polite and healthy. Hugo is an amazing stud. He won our hearts immediately after meeting him when we  pick up our puppy at the Airport. Hazel is a big lover and very patient. Our family is beyond happy, with our decision to bring home a High Desert Aussie pup. I would highly recommend High Desert Aussies to a friend or family member.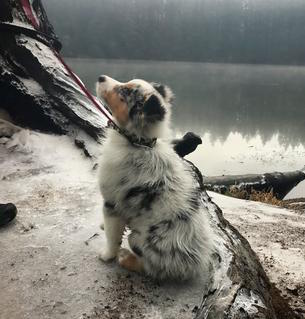 Hi Johanna! Hazel/Woody's Litter
Everest has been an absolute joy! Our goofy new addition is such a cuddly smarty pants. After only three weeks he has been doing awesome at meeting new people, going on hikes, learning to potty outside (had a solid week between the last few accidents, so he's getting close), riding in the car, and playing with our parents dogs. Thank you for such a well rounded puppy!
On our walk just this afternoon.
~Gabrielle Whitman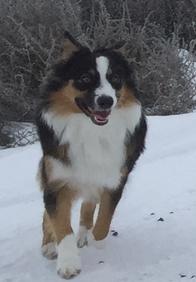 Coco Chanel of Grant County: Owner: Steve Galfano
Amazing Experience, Amazing Breeder, Amazing Pet Companion. Took our sweet girl home from Johanna's loving arms, April 30th, 2016. She immediately was named Coco Chanel because she is wearing the perfect black cocktail dress and a triple strand of pearls. She was the smallest in her litter, the most gragarious however, inquisitive and interested in discovery her surroundings. She weighs in today @ 47 lbs and everyone wants to pet her when we walk her or take her shopping.. she loves her trips to Home Depot and Lowes. We split our time every week between Eastern & Western Washington and our two residences so she puts in 6 hours a week behind a windshield, loves her surroundings, loves everyone, is totally well adjusted and loves us... At 10 months old we can't imagine how she could be more perfect. Johanna and her talents for breeding the best of the best is embodied in our perfect Coco...

When we recently lost our "little girl," Sheila, we were thankful we had already looked for an Aussie breeder in preparation for that day. We knew we needed to provide a new playmate for our grieving Aussie, Skyler, and us too, and we were confident that Johanna and Dave owners of High Desert Aussies, would help us in our - and Skyler's - time of great grief and need. Johanna's professionalism, from the moment we first talked ... when she promptly returned my phone call just prior to boarding a plane ... made it obvious I had reached someone special. She recognized the importance of communication and my desire for "a relationship" with a breeder even though we weren't sure "when exactly" we were going to want - or need - our next four-legged "child." Johanna, generously, made herself available for my questions ... during our 2-year long dialog.  Johanna works very hard to make sure that all medical records, food choices, tags and general, good health details are "in order" because they are necessary to help owners be prepared to raise a healthy dog. Johanna breeds responsibly, retiring her females at a young age; so they are ready to enjoy their own healthy lives. In fact, we were so pleased with all that we saw and learned in our  Facetime visit to High Desert Aussies and meeting Johanna, in particular, that we have made a commitment to purchase another four-legged "child" in 2-3 years, when it is likely that Skyler will pass and there will be yet another bittersweet need for another playmate. 🙂 We feel Aussies are wonderful dogs and Johanna understands how to breed healthy, happy dogs. We are thrilled to be her customer, now, and as planned, returning customer before long. FIVE STARS! Lisa And Tim Gregerson Montague, CA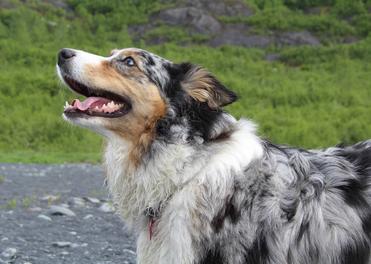 I did not purchase Jaz, but came into her life (by way of romance with her owner) when she was just over one -year-old. Jaz is the sweetest and most loyal girl you will ever meet. She has received very little training, but honestly needs none. She is naturally docile and very well behaved. She will interact and be friendly with anyone. She remains at my side leash free. We have been stopped on numerous occasions to receive compliments on her good looks, but truthfully her personality is the most beautiful thing about her. I have had dogs in my life, but there is something truly special about this girl. So, of course I felt the need to write this testimonial on her breeder's behalf. Thank you so much! She is a blessing!

Wonderful, knowledgeable breeder. My dog,
Sadie, is just so sweet and loving. We got her at 4 months and Johanna already had potty trained her and crate trained her. She was all up-to-date on her vaccines and came with thorough paper work on all the information we needed to know, including her parents/bloodline. We were also new dog parents, so she answered any and all questions asked, without hesitation, for as long as we needed her to. If you are considering an adopting an Aussie, I highly recommend High Desert Aussies.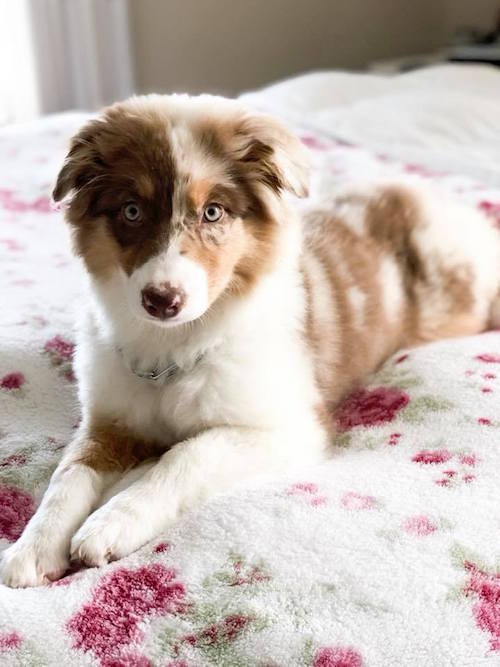 Kona has been the best puppy at only 4 months shes already learned so much and come so far and for an aussie shes very calm we definitely lucked out with her we couldn't be happier with choosing this breeder.
Sam

Phoebe (Zumi/Einstein's Pup) is as sweet as pie! She is 4.5 months and is doing great learning to heel and walk on our left. She loves playing hide-and-go-seek and long walks! She "rings the bell" to go potty outside! She had her first experience with snow and loved it! She's warming up to other people and puppies! She is such a wonderful addition to our family!
Alicia

A year ago, we got our baby boy Ollie(instagram@ollietheaussie0203). It's been an amazing journey for three of us. Ollie is such a beautiful, sweet, independent and smart boy. We love him so so much. Johanna has been very patient with us. She treats her puppies very well. We can't recommend high desert aussies enough. Lots of people have asked us about where to get a pup just like Ollie at dog parks. We suggest high desert aussies every time. We are thinking to get Ollie a little brother/sister.
Raymond&Yahui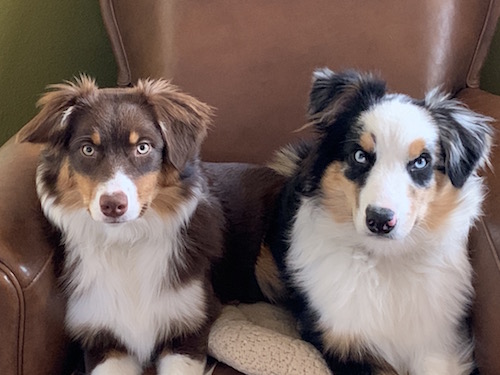 We received our Harlequin Blue Merle, Jackson (Tiger Lilly/Odie 8/15/2019) and Standard Red Tri, Pippa (Brea/Hugo 8/13/2019) on October 4, 2019. They have been a joy and a blessing. We have had 5 previous Aussies and were interested in purchasing another when we heard of High Desert Aussies. Johanna called us back the first day I called and answered all of our questions. She encouraged us to Facetime and see their facilities and meet the puppy we were interested in and his parents. We were also interested in looking at a female that pulled at my heart. The time we spend taking to Johanna was a huge turning point for us as we made the decision to purchase two puppies instead of just one.
We were impressed with the facilities on line and the care of the Aussies. All of the dogs were healthy, well nourished, friendly, and happy. The facility looked clean and safe and the dogs were well groomed.  Even after bringing the puppies home, Johanna answered our questions, gave us resources, and has been a wealth of information.
At ten months, Jackson is incessantly happy, busy, and fun. He continues to delight us everyday with his sense of joy; he loves to play and he is a constant companion. Pippa is pure love. She is much more serious but loves to hug and cuddle, and she smiles and talks when she gets excited. We are so impressed with their breeding, their intelligence, and responsiveness. They are quick learners; they interact well, and have been a delight to train. They watch our Border Collie, Duke, for signals but have quickly found their own way. We are grateful for our overall experience and positive transition. Thank you.
High Desert Aussies
AKC Australian Shepherds
Bend, Oregon
(541) 420-1580