About High Desert Aussies
We are Johanna, Dave, Brody, and Nora Trass, owners of the High Desert Aussies in Bend, Oregon. Together we raise AKC and ASCA registered Australian Shepherds. We've been breeding Aussies for show and sport for nearly 30 years.
We love sharing our home and life with our wonderful dogs. Each member of our family spends many hours weekly with each puppy and adult dog. We are invested in producing the healthiest, smartest and happiest Aussies we can!
Johanna Trass was a Vet-Tech for many years and has both the experience and compassion to properly breed and manage canine health. All her female dogs give birth to their litters inside her home, and the puppies spend their first weeks inside the home with her family. She feels an ethical obligation to limit her females to a maximum of five litters, at which point they are most often donated to a loving family to live a happy life as a regular dog.
Mom did not ask to be pregnant and the puppies did not ask to be born. Johanna believes that breeders have an important responsibility to provide proper socialization and new experiences for puppies, so they are ready for a happy life with their new family.
Once they have arrived as the breeder planned, we must take care of them with diligence and sincerity. We as a family work to perfect this task on a daily basis. Genetic health, disposition, conformation and coat color (the icing on the cake!) are most important to us. Show ring ability are NOT our focus, but an added bonus!
High Desert Aussies is a member of both the American Kennel Club (AKC) and The Australian Shepherd Club of America (ASCA)
We also own The Painted Outlaws Hideout and The Body Solution.

About Australian Shepherds
Australian Shepherds are the most intelligent and versatile of all dogs. They can truly do it all. Aussie's are not just a traditional farm dog -- they have proven themselves in service, sport, search and rescue, therapy, as guide dogs and in show performance.
They are absolutely wonderful with children, loving with their family, keeping a protective eye but showing a relaxed temperament around strangers..
Aussies love working, but they also love having fun! They love the water. They are fit and happy going on walks, jogs or hikes. Aussies are naturals at playing  frisbee, fetch or fly-ball.
There are 4 acceptable colors for Australian Shepherds: BLACK, RED, BLUE OR RED MERLE. All with or without white markings and /or copper points. Aussie's eyes can be brown, blue, amber or a combination, and some will have flecks and marbling.
The Australian Shepherd male standard is 20" to 23" at the shoulder, weighing 50-65lb.The female standard is 18" to 21", weighing 40-55lb. An Aussie's average life span is 12 to 16 years.
An Aussies coat is a medium texture and length. They require brushing a few times a week to remove dead coat and reduce their shedding, plus routine care (nails, ears...). Compared with other breeds, the Australian Shepherd is rather low maintenance in the grooming department. Especially if they are fed a raw or premium kibble diet. A healthy Aussie coat sheds dirt and does not require a great deal of maintenance.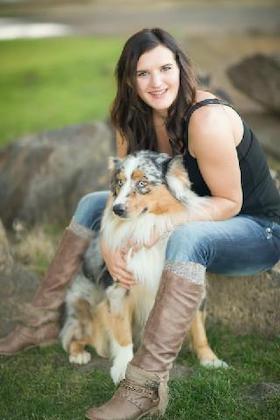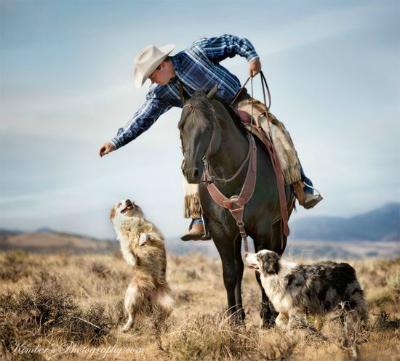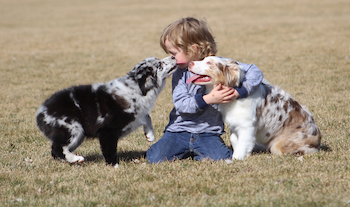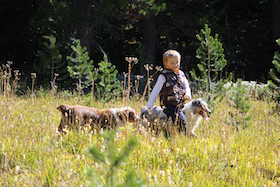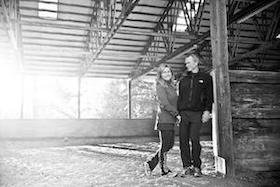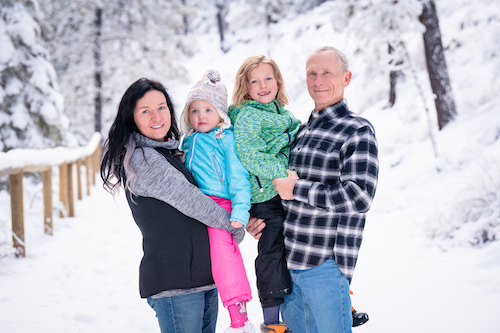 High Desert Aussies
AKC Australian Shepherds
Bend, Oregon
(541) 420-1580